Rango and Airdrives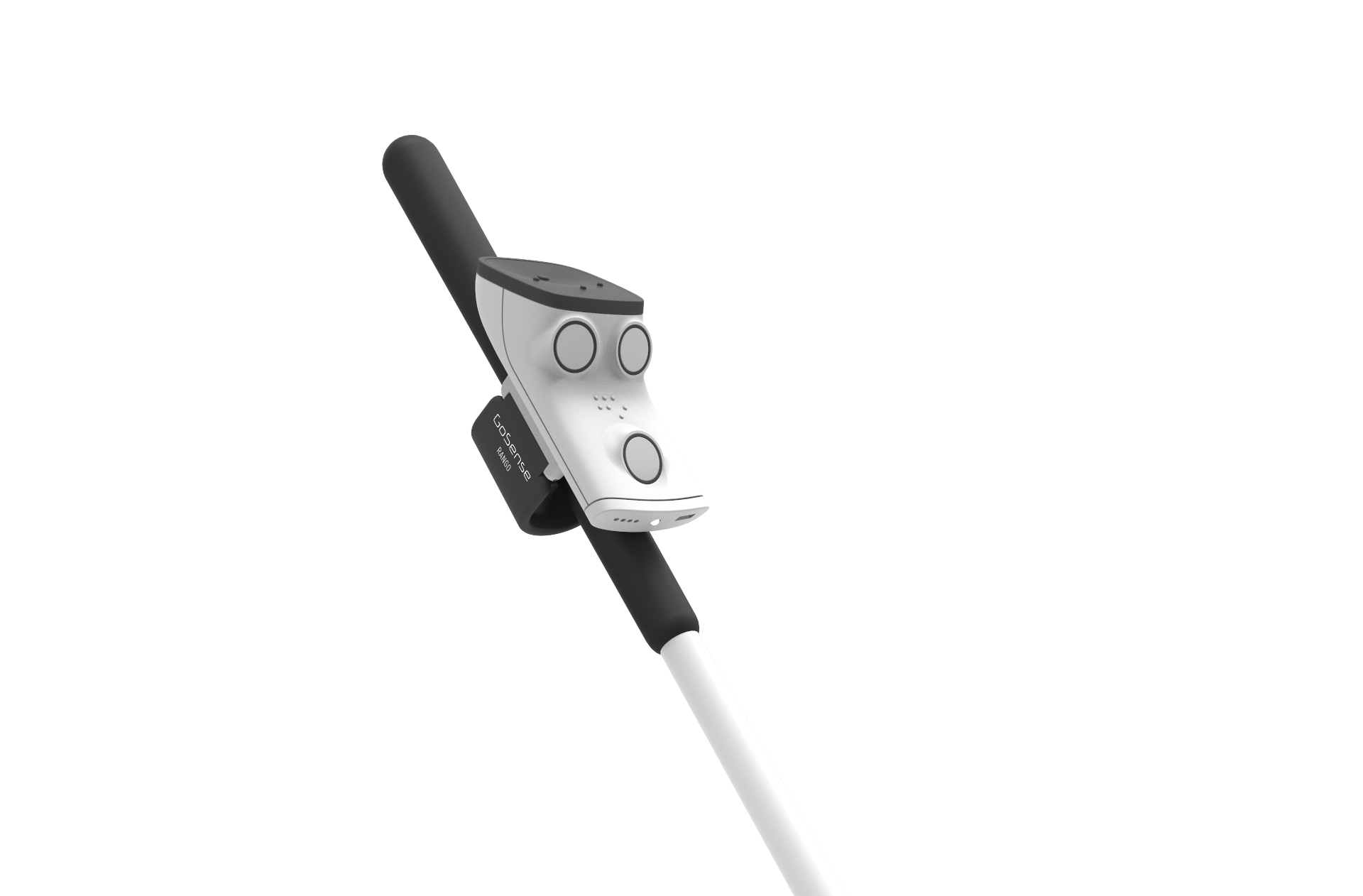 Description
Rango is an electronic device that can be added to a white cane to enhance it with smart properties. By attaching it to a regular white cane, Rango allows users to sense and avoid any obstacles they may come across. 
It provides users with head to toe and shoulder-width protection. 
Rango is a fully virtual smart shield that protects users by locating 3D obstacles and by identifying those that represent real danger. Used in combination with Wizigo's features, it allows users to move around by themselves easily and safely. 
The Wizigo app is the first ever community-based GPS that allows visually impaired users to find their way around town using spatialised sound. Users may easily reach their destination without even having to take their phone out of their pocket.
The Wizigo app guides you in real time. It translates itineraries, points of interest and work or construction areas into sound signals. By means of spatialised sound, users are able to easily sense their environment, remaining aware of their surroundings at all times. 
By connecting Rango to your smartphone and to Wizigo through Bluetooth, you will be able to move around while receiving sound alerts for various obstacles. These sound alerts will be heard in overlay without cancelling any other sounds around you.
The device's powerful sound-spatialisation technology and its smart sensors will allow you to precisely locate any obstacles (front, top, bottom, right and left) in your path.
Rango is a lightweight ergonomic device. It has four buttons that allow you to control the Wizigo application without having to use your smartphone. Rango therefore allows users to combine the benefits of secure navigation and reliable localisation.
Airdrives design is innovative and unique, allowing you to enjoy your music while remaining fully aware of your surroundings.
Nowadays, it has been clearly demonstrated that wearing internal earpieces or wearing headphones while traveling around town significantly increases the risk of having an accident.
Airdrives are outside-the-ear headphones that are the perfect solution for moving around town safely while listening to music.
While using your Airdrives, you will still be able to hear a scooter arriving behind you from a distance of 20 metres. Hence, an approaching car, bus or tram will no longer pose any risk for you.
Whether you are a visually impaired, a blind or a sighted person, Airdrives headphones will allow you to remain alert to your surroundings.
Visually impaired people combine the use of their headphones with Wizigo and Rango products, thereby benefitting from our augmented reality sound technology. This will help orient yourself and avoid obstacles thanks to 3D sound signaling, while also remaining alert to your surroundings.
RANGO Key features
obstacle detection using ultrasonic technology  
audio feedback (3D audio feedback by the end of 2019)        
attached to any reguar white cane and connected to a smartphone (IOS/android compatible) with Bluetooth connection    
light (107g), intuitive and scalable
3h30 battery life
shockproof / waterproof (IP64 rating)        
geo -tracking function & public transportation schedule in real time  
free updates
Earn
0
reward points with this purchase
Add This Product To Your Wishlist
The item has been added to your basket