TechRadar - Elevate 120 Sit Stand Desk Review
Hi there! Happy Friday everyone!! It's Emma coming to you today from a very warm office at VisionAid HQ in sunny Lincolnshire!!
We would like to take this opportunity to share a little snippet of a fabulous review by Steve Clark of TechRadar, this is for VisionAid's very own Elevate 120 Sit Stand Desk!
"The Elevate 120 electric sit-stand desk is a sturdy bit of kit that irons out a number of niggles you may find in other standing desks. The tabletop is spacious, accommodating dual monitor set-ups, and assembly is as easy as 1-2-3 - literally. It might lack a sharp design, but VisionAid's adjustable workstation is ideal for home office workers looking for a broader height range."
Please follow the link below to read the full review on TechRadar's website!
TechRadar - VisionAid Elevate 120 Standing Desk Review
While we're on the subject, have you ever taken the time to look at your workspace, I mean really look, to ensure your workspace is working for you to provide the most ergonomic working environment possible?
For those of us who are working in an office environment, there are so many little changes that you can make that create a big difference. These small changes can improve your overall health and wellbeing as well as increasing your productivity, this is especially true of users who have a visual impairment.
Some of the changes that you can make are as simple as changing the height and position of your monitor. By using a monitor arm you can adjust the monitor to the correct height and also move the screen closer to you as required so you're less inclined to hunch forward over your desk which can lead to neck and back pain.
Similarly, laptop and tablet users can also benefit from using risers to improve their positioning towards their screen, document holders also make a big difference to workers who are needing to view hard copy information. Raising your documents off your desk and having them placed at a slight angle can help reduce neck pain.
Our Elevate 120 Sit Stand Desks have been designed to get you up out of your chair and onto your feet, breaking the unhealthy habit of sitting all day! With a touch of a button, you can be standing at a comfortable working height in less than 30 seconds! Changing your working height throughout the day is actively good for your health, it can help to reduce back pain, there's a lower risk of heart disease, lower risk of weight gain and boosts your productivity! We all have them here at VisionAid, I love to stand at mine to stretch my legs following an evening of rugby training, whereas the other ladies in the office use their standing time to get those few extra steps in!
I'm currently standing as I type, here's a little snapshot of my humble workstation, as you can see there is plenty of space for all my clutter as well as the essentials. The desk drawer is perfect for my snack stash! However, it is perfectly suited for notepads ect. too!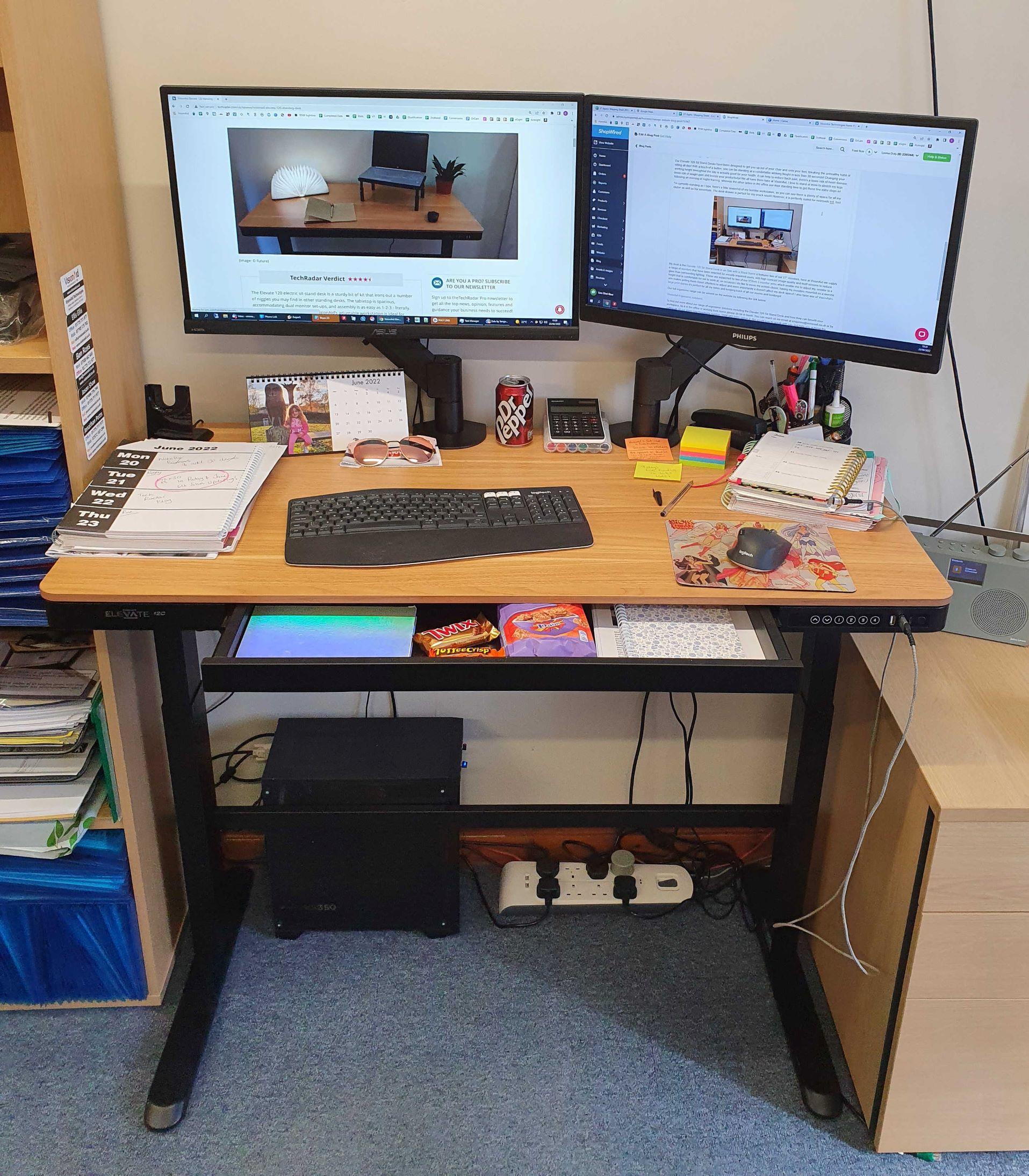 My desk is the Elevate 120 Sit Stand Desk in an Oak with a Black frame it features two of our 27" monitors, here at VisionAid we supply a range of monitors that have been selected for visually impaired users, with high contrast image quality and matt screens to reduce glare from surrounding lighting. These are supported by two of our VTArm 3 monitor arms which enable me to adjust my monitor to a height that is comfortable for me to work at, on occasion I do like to move my screen closer, having my monitors mounted on a monitor arm makes pulling them closer effortless to adjust and more importantly it doesn't affect my desk space! I also have one of VisionAid's large print diaries it's perfect for all my notes and keeping track of all our events and bookings!
Our full ergonomic range can be viewed on the website by following the link below:
To find out more about our range of ergonomic solutions including the Elevate 120 Sit Stand Desk and how they can benefit your workspace, be it in the office or working from home please do be in touch. You can reach us via email at enquiries@visionaid.co.uk or by calling us on our shiny new freephone number: 0800 002 5555 option 2. We would love to speak with you and help you achieve the ergonomic workspace of your dreams!

I hope you're all having a wonderful day, whether you're out enjoying the sunshine or working in a slightly warm office like us here at VisionAid, speak to you all again soon!