Candy 4 HD II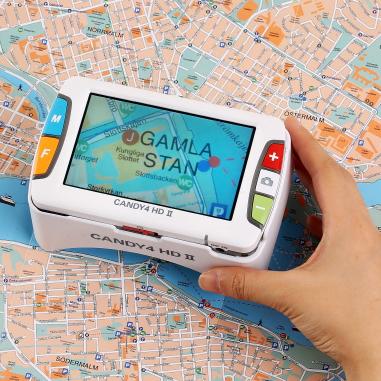 Description
Candy 4 HD II is a lightweight handheld video magnifier with a sharp high-contrast image that you can conveniently carry with you in your jacket or purse wherever you go. Continuous zoom magnification from 2x – 20x, easy-to-find controls and user-customisable text and background colour combinations make Candy 4 HD II the perfect companion for everyone with low vision. 
Its true colour image is important for many school and professional tasks like viewing maps, graphs and charts, as well as personal uses like viewing family photographs or browsing catalogues. 
You can use the Candy 4 HD II as a stand magnifier with the handle flipped under for sorting mail, reading a newspaper or magazine article or other flat materials. The included reading stand adds another level of usability by giving you a greater field of view. Extend the handle to use Candy 4 HD II as a handheld magnifier for reading a restaurant menu, directions on a medicine bottle, cooking instructions on food packaging, notices on a noticeboard, shelf labels at the supermarket and more.
Key Features
Candy 4 HD II features a 4.3" LCD screen with a high-definition camera ensuring a clear, high-quality image
Adjustable screen brightness
Large tactile controls
Ideal for viewing photocopier & appliance controls, filing & writing etc.
Integrated & separate reading stands
User-customisable colour contrast settings
Fold out handle
Easily customise 4 selectable colour modes from a number of preset combinations in addition to the standard natural color mode
Users can disable unused options to simplify menu choices to only those which they use most often
Near-distance view to see or capture a shop sign, supermarket prices or items on a supermarket shelf
Continuous auto-focus camera
Candy 4 HD II will quickly auto-focus when the user changes from close-up to near-distance viewing
Continuous digital zoom
Large display digital clock
Quickly check the current time right on your Candy 4 HD II
2.5 hour replaceable, rechargeable lithium battery
The battery recharges within 2 hours with the included AC adapter
Earn
0
reward points with this purchase
Add This Product To Your Wishlist
The item has been added to your basket