Upcoming events:
We work with many local societies and charities to showcase our selection of low vision and blindness solutions we would love to meet you!
Some meetings and events are open to the public, while others are for members only please do get in touch using the contact information below to find out more about an event or meeting.
If you would like us to attend your meeting, social group or event please email enquiries@visionaid.co.uk
If you would prefer to book your very own friendly, informal, one-to-one demonstration, please either call us on freephone 0800 002 5555 option 2 or contact us.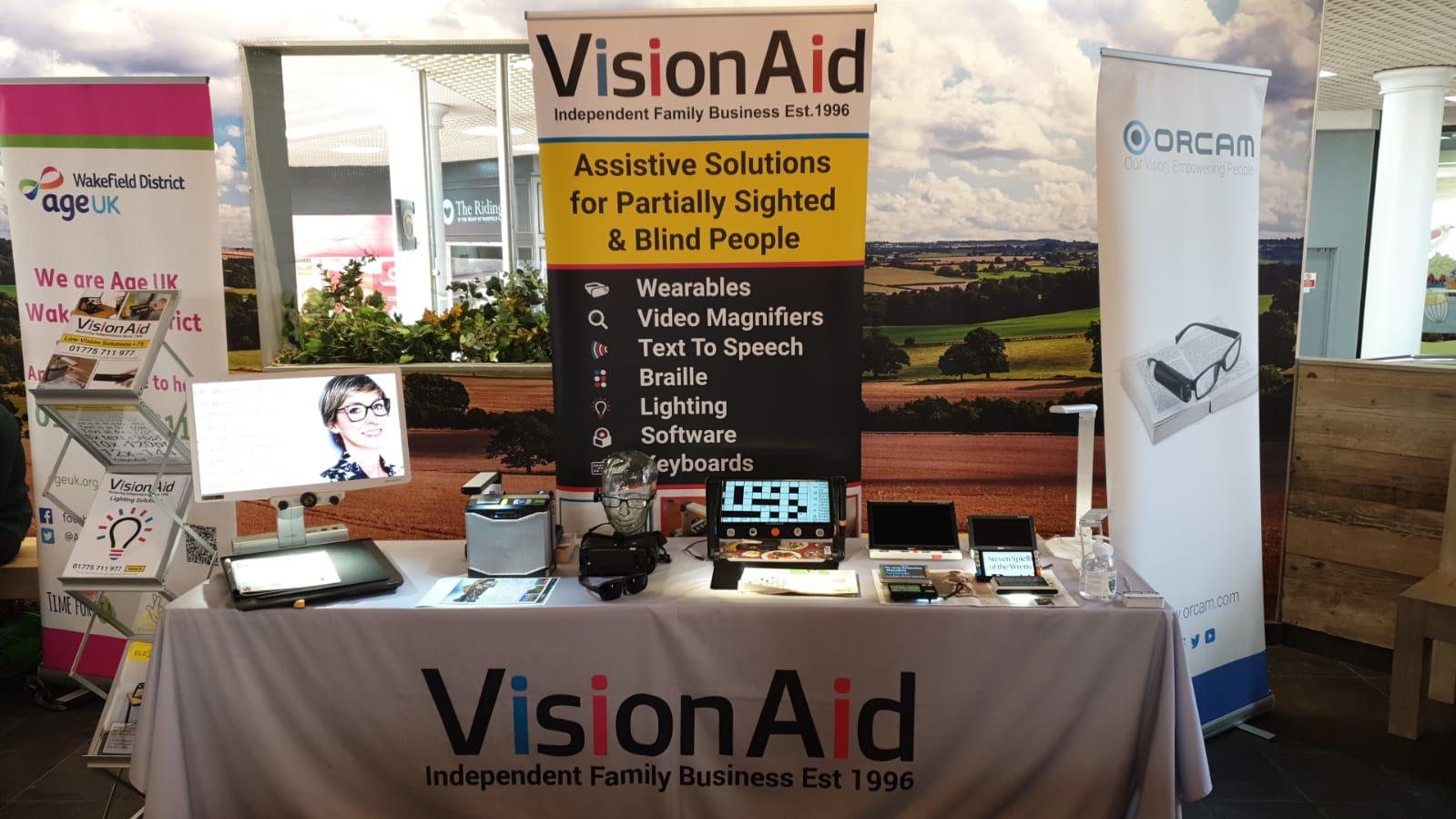 Ben, Daniel, Dave, Jason, Jonathan and Nigel all look forward to meeting you!
---
Come along and meet Jonathan on:
Thursday 23rd November at 12:00 - 15

:00
at:
Warrington VIP
Fairfield Street
Warrington
WA1 3AJ
For further information please contact Warrington VIP on
01925 632700 or email info@warringtonvip.co.uk
---
Come along and meet Jason on:
Tuesday 5th December at 10:00 - 12:00
at:
Lincolnshire Sensory Services - Coffee Morning and Drop-in Day
The Local Community Centre
Mitre Lane
Boston
PE21 6EB
For further information please contact Lincolnshire Sensory Services on
03333 202667 or email contact@lincolnshiresensoryservices.org.uk
---
Come along and meet Daniel on:
Monday 12

th February at 10:30 - 12:30
at:
Old 1 Abbot Street
Dunfirmline
KY12 7NL
For further information please contact Seescape on
01592 644979 or email info@seescape.org.uk
---
Come along and meet Jason on:
Wednesday 14th February at 10:30 - 13:30
at:
Sight Support Derbyshire - Information Day
Belper Town FC
Raygar Stadium
Bridge Street
Belper
DE56 1BA
For further information please contact Sight Support Derbyshire on
01332 292 262 or enquiries@sightsupportderbyshire.org.uk
---
Come along and meet Jason on:
Friday 16th February at 11:00 - 13:00
at:
Macular Society - Support Group
The Community Centre
St Clements Court
Lincoln
LN1 3AD
For further information please contact the Macular Society on
0300 3030 111 or email groupsadmin@macularsociety.org
---
Come along and meet Jason on:
at:

Macular Society - Support Group

St James' Church Hall
Clayton Lane
Newcastle Under Lyme
Newcastle
ST5 3DW

For further information please contact the Macular Society on
0300 3030 111 or email groupsadmin@macularsociety.org




---




Come along and meet Ben on:

Wednesday 20th March at 10:00 - 15:00

at:

Open Sight - Information and Equipment Day

Princes Hall
Princes Way
Aldershot
GU11 1NX

For further information please contact OpenSight on
023 8064 1244 or email info@opensight.org.uk




---




Come along and meet Jason on:

Thursday 21st March at 10:30 - 13:30

at:

Sight Support Derbyshire - Information Day

Dronfield Leisure Centre
Civic Centre
Dronfield
S18 1PD

For further information please contact Sight Support Derbyshire on
01332 292 262 or enquiries@sightsupportderbyshire.org.uk




---

Come along and meet Jason on:

Wednesday 10th April at 14:00 - 16:00

at:

Market Drayton Methodist Church
Shrewsbury Road
Market Drayton
TF9 3DL

For further information please contact
Barbara on 01630 652555




---




Come along and meet Dave on:

Friday 12th April at 11:00 - 13:00

at:

St Marys Hall
Parish of Coity with Nolton
Nolton Hall
Merthyrmawr Road North
Bridgend
CF31 3NH

For further information please contact DeafBlind UK on
0800 132320 or info@deafblind.org.uk




---




Come along and meet Daniel on:

Monday 3rd June at 13:30 - 15:00

at:

Macular Society - Support Group

Galashiels Church of Scotland (Trinity)
High Street
Galashiels
TD1 1SE

For further information please contact the Macular Society on
0300 3030 111 or email groupsadmin@macularsociety.org




---




Come along and meet Daniel on:

Monday 10th June at 14:30 - 16:00

at:

Macular Society - Support Group

Rosemount Gardens
Midstreet
Bathgate
EH48 1TG

For further information please contact the Macular Society on
0300 3030 111 or email groupsadmin@macularsociety.org




---




Come along and meet Ben on:

Monday 24th June at 11:00 - 12:30

at:

Macular Society - Support Group

Kirkcaldy Galleries and Library
War Memorial Gardens
Abbotshall Road
Kirkcaldy
KY1 1YG

For further information please contact the Macular Society on
0300 3030 111 or email groupsadmin@macularsociety.org




---




Come along and meet Ben on:

Thursday 27th June at 13:30 - 15:00

at:

Macular Society - Support Group

HForth Valley Sensory Centre
Redbrae Road
Falkirk
FK1 4DD

For further information please contact the Macular Society on
0300 3030 111 or email groupsadmin@macularsociety.org




---


Come along and meet Ben on:

Tuesday 9th July at 14:00 - 16:00

at:

Macular Society - Support Group

Holsworthy Memorial Hall
Manor Suite
North Road
Holsworthy
EX22 6DJ

For further information please contact the Macular Society on
0300 3030 111 or email groupsadmin@macularsociety.org




---


Come along and meet Jason on:

Friday 6th September at 10:00 - 14:00

at:

Vision Tech Exhibition York 2024

Riverside Centre
189 Huntingdon Road
Heworth
York
YO31 9BP

For further information please contact the Aspire Consultancy on
01904 762788 or email info@aspire-consultancy.co.uk




---




Come along and meet Jonathan on:

Wednesday 15th November at 10:00 - 12:00

at:

Macular Society - Support Group

Lantern Centre
Hall Street Church
Llanelli
SA15 3BB

For further information please contact the Macular Society on
0300 3030 111 or email groupsadmin@macularsociety.org




---




Come along and meet Jason on:

Wednesday 9th October at 10:30 - 12:00

at:

Macular Society - Support Group

Museum of Carpet
Stour Vale Mill
Green Street
Kidderminster
DY10 1AZ

For further information please contact the Macular Society on
0300 3030 111 or email groupsadmin@macularsociety.org