Pearl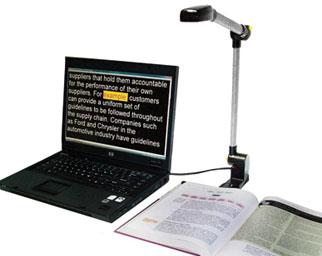 Description
PEARL brings blind and low vision users instant portable access to printed material with an array of human-sounding voices. The folding camera can be set up in a few seconds and can then be connected to your PC and capture a picture of your reading material.
PEARL has been designed with a range of features for those affected by eye conditions such as macular degeneration, diabetic retinopathy, and other causes of low vision. It is therefore possible to tailor the appearance of text on your screen (font style, size, character spacing, and colour), view with split-screen and compare your original document and OCR conversion results and use Masking and Word Spotlighting to help you follow text as it is read.
PEARL can be purchased with OpenBook and thus it expands on the features of OpenBook. Press a keystroke to capture a picture and then hear your book read back to you with Eloquence or one of the human-sounding voices from RealSpeak Solo Direct. You control the reading rate and voice.
When Pearl is used automatic mode it senses motion and knows to capture an image whenever a page is turned. If you choose to you can postion your novel sideways and PEARL will capture two pages at a time and continue to read out the text in the correct order. For larger books, you can capture all the 'even' pages first, then flip the book over to capture all the 'odd' pages. You can also keep turning pages and capturing images while OpenBook reads.
PEARL can be used to read books, newspapers, magazines, and bills. OpenBook identifies columns and places them in logical reading order. Change the language setting to read foreign language documents with native speaker voices.
Once your page has been captured, you have multiple options for viewing the information. You can display the text so that it wraps on the screen, enlarge the font, change the font style, and change the foreground and background colors. Have the individual words spotlighted as they are spoken.
The PEARL sets up in seconds to provide a stable platform for the camera with alignment features to ensure you capture a good image every time. It runs off a single USB port – no battery or external power supply required.
The PEARL folds into a compact 14"x 3"x 2 1/8" package and zips into its protective neoprene case - slip it into a bookbag or briefcase.
Key Features
Convert printed text to human-like speech in seconds
Scan 20 pages per minute while reading
Scan bound books and maintain pagination
Enlarge and reformat text for easier reading
Wrap text to fill the screen
Use like a video magnifier
Add comments and highlighting
Export to other applications like Microsoft Word or Notepad
Fold it up and take it with you in its protective carrying case
Earn
0
reward points with this purchase
Add This Product To Your Wishlist
The item has been added to your basket