Ruby HD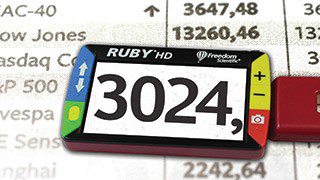 Description
The Ruby HD updates the Ruby to include a higher resolution camera in the same lightweight body to bring you crystal-clear images in a small package. The 4.3-inch screen and built-in LED lighting provide magnified high-contrast images.
The device is so small and lightweight that can be slipped in a pocket or handbag and therefore it is the perfect travelling companion to take out on the go! 
The simple design of this video magnifier makes it easy for anyone with low vision or anyone who is unfamiliar with technology to use. To turn it on just press one button and then place it over the object that you need to magnify and then adjust the magnification using the yellow zoom button. 
The unit stays flat on the table, and the magnified image appears in the display window. With only one button, you can adjust the screen from full colour for viewing pictures to any of four high contrast text modes. When the handle is flipped out, this device can be used like a conventional magnifying glass but everything can be seen with enhanced contrast and relatively little distortion. 
By pressing the Freeze Frame function it is possible to capture an image and then zoom in for more comfortable reading.
Features:
4.3 inches LCD widescreen.
2x - 13x continuous magnification
Lightweight design (225g) ensuring that it is easily transportable.
Fast reading speed without blurring or ghosting of text.
20 high-contrast video colour modes including full colour, black on white and white on black.
Built-in LED lighting improves the user experience when reading.
Easy flip-out handle making the device versatile - can be used in the same way as a magnifying glass.
Freeze Frame option available.
Internal memory to store up to 80 images
2-hour in-use battery life
Uses rechargeable or disposable AAA batteries
Batteries and carrying case included
Earn
0
reward points with this purchase
Add This Product To Your Wishlist
The item has been added to your basket